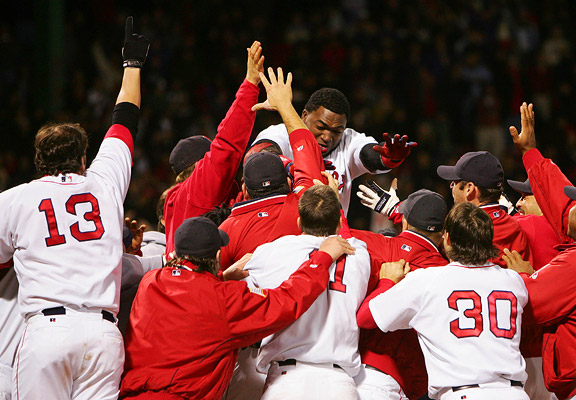 All day yesterday we knew what the outcome of last night's game was going to be. The Yankees aren't hitting and they were facing the league's best pitcher. How could you not think that come Wednesday morning, the Yankees wouldn't be sitting in a 0-3 hole?
All eyes have seemed to focus on a series that happened 8 years ago. If you haven't heard by now, 8 years ago today, the Boston Red Sox won game 4 of the 2004 ALCS, you know, the series where they fought back from an 0-3 hole to win 4-3 en route to their 1st World Series in 86 years. You know,  the single greatest series and comeback  in the history of sports.
So, sorry Yankees fans, sorry to kick you while you are down but you will not repeat what the 2004 Red Sox did. Yes, I am a Red Sox fan so maybe I am a little biased but as of this writing, its 9:50am on Wednesday morning and all I've heard today is how 8 years ago the Red Sox began their historic comeback and that the Yankees will start theirs tonight.
Here is why the 2012 New York Yankees won't repeat what the 2004 Boston Red Sox did:
The Red Sox were scoring runs in that series. Yes, they let the Yankees put up 19 runs in Game 3 of that series but the Red Sox put up 8 of their own in that game (and 7 in game 1). They were hitting, they were scoring, they just needed to find a way to keep their bats hot and get their pitchers hot. In this series, only 2 Yankees are really performing at the plate and they aren't scoring at all.
The Red Sox were facing a much easier pitching rotation, which goes hand in hand with their ability to hit and score runs in that series. The Detroit Tigers pitching staff is ridiculous. The Yankees are putting their best pitcher on the mound tonight which will quiet Detroit but let's not forget that Max Scherzer can put 6 or 7 scoreless innings on the board.
The main difference between the two teams would be the concept of being a team. The 2004 Red Sox were in together. In fact they were a close knit, long-haired freaky bunch of "idiots" that liked to do shots of JD before the game. Sorry, I don't get that from the Yankees. No, you don't need to do shots together but you need some type of comradery.  In 2004, the guys rallied around each other and found a way to win with each other. Look at the Yankees dugout, you don't get that they are trying to rally each other.
The Red Sox appeared to lose an important player that year in Curt Schilling but he came back..OH MY GOD did he ever come back. Jeter isn't coming back to lead his team to the promise land the way Schilling did in Game 6 and A-Rod doesn't have it in him to put this team on his back. If there is going to be one guy on the Yankees that plays the role of here, I seriously can't figure out who it's going to be.
So those are my reasons why the Yankees won't repeat what the 2004 Red Sox did. Do you agree with me or do you think otherwise?